New Hire Onboarding in South Carolina
When onboarding a new hire in South Carolina you should have two main objectives in mind.
Making sure you are HR compliant by doing everything by the book.
Create a seamless process to help reduce employee turnover.
This is your complete guide to new hire onboarding in South Carolina. All forms and documents are included in the SC New Hire Packet, which can be downloaded here.
Why is new hire onboarding in South Carolina so important?
The new hire onboarding process is proven to increase employee performance. Companies that have a formalized onboarding processes see 60% year-over-year improvement in employee productivity versus those that do not have a formalized onboarding process. The onboarding process is critical, providing a first impression of the organization to the new hire & an opportunity to develop a relationship that can either be highly productive and engaged or "just another job."
The impact of a formal new-hire onboarding process in turn impacts employee engagement, retention, and productivity.
If you would like a guide that walks you through every step from pre-hire, to six months in, you can download the Ultimate Employee Onboarding Guide here.
What Forms Are included in the SC New Hire Packet?
ERG Payroll & HR created this packet to make the employee onboarding process simpler. Included you will find all the federal and state forms needed during the onboarding process.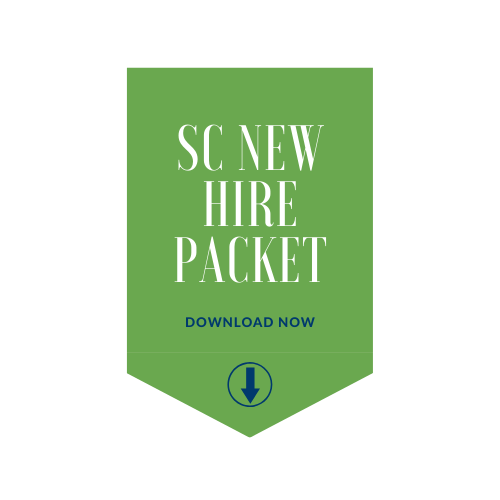 Federal New Hire Documentation
These are the forms and documents that all employers must complete in the United States. This includes the I-9 and W-4 forms. These are for eligibility to work in the U.S. and tax withholding for federal income tax to the IRS.
South Carolina New Hire Documentation
Each state has additional requirements when onboarding new hires. South Carolina requires the SC New Hire Reporting Form as well as SC Payment of Wages.
To get the federal and South Carolina new hire forms – click here.

Contact us at guHRoo (formerly ERG) Payroll with any questions on how to onboard a new hire in South Carolina.