ENGAGE YOUR NEW HIRES. SAVE TIME AND MONEY.
HOW EMPLOYEE ONBOARDING SOFTWARE WILL HELP YOU FOCUS ON GROWING YOUR BUSINESS
EMPLOYEE GOAL SETTING
Create goals and perform employee assessments from your online dashboard.

PAPERLESS W4 AND I9
Your federal documents are already loaded and ready for your new hires.

PAPERLESS EMPLOYEE FILES
You can add notes, attach files, and store all of your employee info in one place. CovertHR goes far beyond the onboarding process.
ELECTRONIC SIGNATURE
When we say paperless onboarding, we mean it. Electronically sign all documents online.

EMPLOYEE EXPORT
Export all your new hire information to import into your payroll or integrate with guHRoo (formerly ERG) Payroll.

CUSTOM FORMS AND DOCS
We can turn your documents into custom forms and allow your team members to esign them.
"Organizations with a formal Onboarding process receive 60% Greater year over year Improvement in revenue per FTE."
Engage. Retain. Grow.
guHRoo (formerly ERG) employee onboarding software will help you reduce paperwork and engage employees sooner. When you engage employees sooner, you can increase employee retention and have a more productive workforce. Use the employee onboarding checklist template and the features below.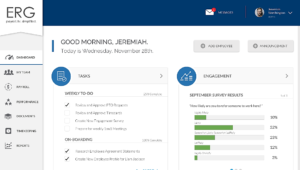 Integrate with our payroll software for a comprehensive solution.
CHECK OUT HOW YOU CAN MAKE
YOUR TEAM MORE PRODUCTIVE!
Companies with a formal employee onboarding program are proven
to increase productivity by 60% per FTE year-over-year.
Have questions? Shoot us an email at support@ergpayroll.com
Ready to become an HR Hero?
Schedule a call by messaging us.

We'll implement it for you!