Employee Appreciation Day is the perfect day for business owners and HR managers to celebrate employees for their hard work and dedication to the company.
Here are a simple few ideas that you can throw together for Employee Appreciation Day.
1. Breakfast of Champions
Have breakfast waiting when they get there. This is an easy pick-up or delivery option that fuels them for the day ahead. Also, it changes up a Friday morning to socialize together. Just be sure to send an all-employee email the night before so they don't eat at home.
Tip: Your local Dunkin' Donuts has donuts, bagels, muffins and a huge 'Box of Joe' which gets breakfast covered all in one spot.
2. Give All Employees An Extra PTO Day
If your company goes by a PTO structure for time off – grant them one extra PTO day to use in 2020. This small gesture will go farther than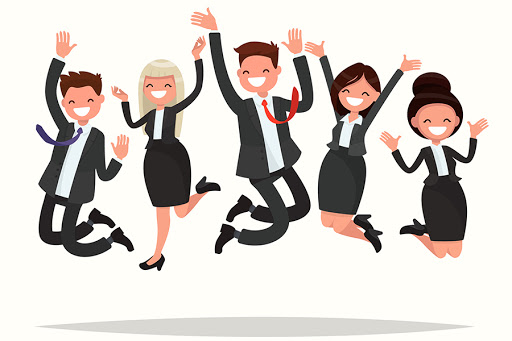 you would think.
3. Let Them Leave Early
With Employee Appreciation Day falling on a Friday, what better gift than letting them leave an hour or two early. Surprise them with an email telling them you appreciate them and take the rest of the day to start your weekend early.
Note: Make sure you note in your email that any urgent client tasks are done and that any deadlines are met before leaving.
4. Gift Card or Small Cash Bonus
Give them a gift card to a local restaurant or Amazon, or even a small cash bonus if you are able. Any amount will surely make them feel appreciated.
5. Employee Happy Hour
Throw an Employee Happy Hour! This can be at a local bar or restaurant or even right in the office. This lets you and them socialize in a less formal setting.
Tip: Some restaurants/bars will offer special additional happy hour offers for groups of certain sizes. Call around town and see what they have to offer.
6. Be Creative 
If you are crafty, this is a perfect idea. Create a gratitude wall that includes all employees and why the company is grateful for them. Include pictures, quotes, shoutouts, funny memories and anything that brings happy memories to life.
7. Let Them Shop
Let them give their workspace a boost. Give them a budget and have them send you an item(s) they want within the budget.
Hint: If you are an Amazon Prime member – make sure they all pick from there so you don't have to pay for shipping.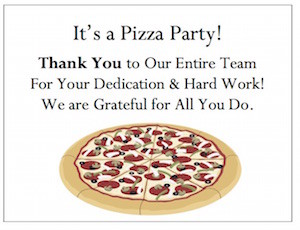 8. Pizza Party!
Have a pizza party for lunch. Everyone loves pizza and it can be delivered so you don't have to worry about going and getting it.
Note: Be sure you ask if anyone has allergies or does not like pizza beforehand so you can plan accordingly.
9. Start An Employee Appreciation Program
Put a program together where employees get points for certain milestones, accomplishments, compliments and overall good work. They can then cash in these points for small rewards such as a half-day. If you need help putting this together, let us know.
10. Write Handwritten Thank You Cards
A handwritten card goes a lot further than an email. Take the time to write each employee a thank you card with a personalized message and leave on their desk Thursday night so it is waiting for them Friday morning.